Sold out! See below for waiting list
Avast there ye load of lily-livered landlubers!
Sold out!
To ask to go on the waiting list for tickets, click the links on here for each performance. 
On the Ticketsource page – click the button to go on the waiting list and leave your details on the form.
To help us,  fill in your name, your email address, your contact phone numberthe number of tickets you require and in , which performance and in "Special requests or comments" section, tell us which performance(s) you want to attend.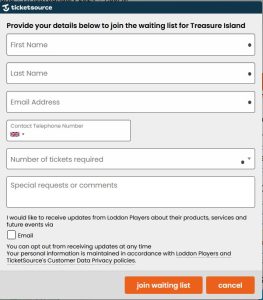 First come, first served basis.
Adults £10
Children (under 16) £5
Wheelchair tickets for adults and children available £10/£5
Our next production Treasure Island takes place at the Lecture Hall, George Lane from Friday Evening 19th January 2024 to Saturday Evening 27th January 2024.
There will be total of 8 performances.
Producer and Writer Steve Burton
Director Jackie Bingham
Auditions took place in September and we are delighted that many of our past performers will be taking part including Anthony Bunting who again takes on the role of the Dame.
Choreography and dance is in the very capable hands of Vicky Codling and her Funky Feet dancers.
Making a return again this year is our very talented Musical Director – Alan Cant.
Fill in our contact form below leaving a short message if you would like to help out with the production.
Yo ho ho! Shiver me timbers.
list
Fri, 19th January - 7:30pm
Sat, 20th January - 2:30pm
Sat, 20th January - 7:30pm
Sun, 21st January - 2:30pm
Thu, 25th January - 7:30pm
Fri, 26th January - 7:30pm
Sat, 27th January - 2:30pm
Sat, 27th January - 7:30pm